At Precision Spinal Care, we're changing lives … a spine at a time.
At Precision Spinal Care, we're changing lives … a spine at a time.
At Precision Spinal Care, we're changing lives … a spine at a time.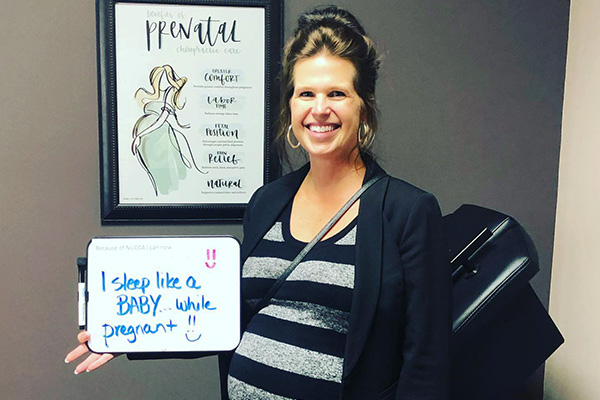 I sleep like a BABY – while pregnant!!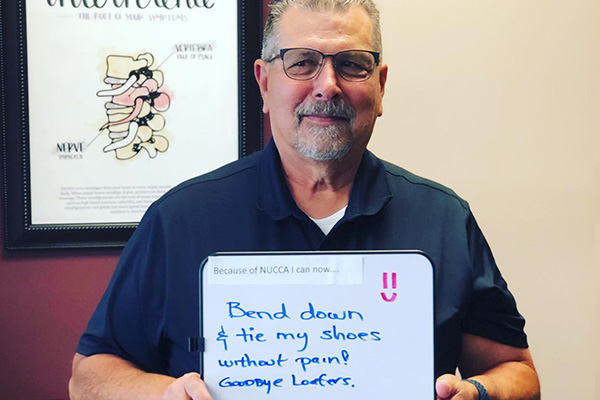 Bend down and tie my shoes without pain! Goodbye loafers.
This is what some of our practice members have been saying about NUCCA:
"My son has been seeing Dr. Lisa for about four years now. since then, each year, his asthma has been improving. usually in February, we will need to take him into emergency for help to get his attacks under control. For these last two years, we have not had to go. I truly believe that his adjustments to his spine are improving his health."
"Dr. Lisa gave me hope for the first time in over 3 years. I suffered a fall and a traumatic car accident in the last three years. I had brain fog, feelings of being off balance, trouble concentrating, and feels of anxiety and depression. I have been in her care for just two short weeks and for the first time- after all this struggle- I feel that I WILL Finally get better. I wake up feeling more in control and my thinking is clear for the first time in a long time. I have known Dr. Lisa since we were kids and there is no one I would trust more with my care and healing than her. Truly life changing care with passion and heart! <3″
– Kay W.
"Thank you, Dr. Lisa… I think you just saved my life. My daughter-in-law started bringing my teenager who has a seizure disorder. I was skeptical even when my daughter got better. How could a simple alignment be the answer?
My health was starting to decline; I told myself this was part of the aging process.
I was wrong. I'm sad it took almost a year to try your service for myself. My whole body, including my digestive system, has improved. Thank you for saving my life."
– Darlene H
"NUCCA chiropractic has changed my life! I can now walk my dogs without pain and keep up with my granddaughters."
– Darlene H
"NUCCA chiropractic has forever changed my life for the better!"
"Due to NUCCA Chiropractic, I'm not as depressed anymore, sleeping at night, more energy, no colds or flu this winter. I smile more, I talk more, thank you, Dr. Lisa!" 🙂
"NUCCA Chiropractic has taught me how the body heals and what role the nervous system plays in health."
"NUCCA Chiropractic has helped me feel younger!"
"Due to NUCCA chiropractic, I have not had any colds or flu this winter, (used to catch off of everyone), no more headaches, sleep better at night, not as depressed, more energy, thanks, Dr. Lisa." 🙂
"NUCCA chiropractic has changed my overall health."
"NUCCA Chiropractic has helped me sleep better – no more insomnia!"
"NUCCA Chiropractic has improved my life tremendously! No more carpel tunnel, no more foot problems, & my health continues to improve. Thank you!"
"Since receiving regular consistent chiropractic care for about 2 years, my posture has greatly improved, I'm more in touch with my body and have a sense of well-being."
"I have not felt better in 10 years."
"This is the 1st time I have been able to walk and play 18 holes of golf since my knee surgery 3 years ago."
"NUCCA chiropractic has dramatically changed my overall health. I have not gotten one sniffle in over 15 months! back pain and menstrual cramps are greatly reduced also! Thanks, Dr. Lisa!"
"NUCCA chiropractic has totally healed my neck pain and helps immensely with ongoing stomach problems. I feel so much better since starting NUCCA care."
"NUCCA Chiropractic has helped to relieve chronic neck pain and given me a better understanding of total body health."
"I'm sleeping better, have better movement, no headaches, and more energy!"
"NUCCA Chiropractic has made it possible for me to walk without severe pain in lower back. It has given me overall feeling of well being."
"NUCCA Chiropractic has helped me to bend, turn, and stand straighter – better than the last 15 years!"
"NUCCA Chiropractic has changed my life. I no longer have debilitating back pain."
"NUCCA chiropractic has made my life so much more enjoyable by being pain and headache free, especially when I wake up in the morning. No more headaches!"
"I look forward to seeing Dr. Lisa. Her procedure helps me to stay very healthy."
Dear Practice Member,
NUCCA changed my life. I can't imagine where I'd be today, let alone in 20 years, if I hadn't made a trip to Dr. Ray Marshall's office in Tulsa, Oklahoma in September of 2001.
I grew up under traditional chiropractic care. I've been adjusted since I was born. Why? Because my Grandmother is alive today due to a chiropractic miracle nearly 70 years ago. She was pregnant with my father, and was told that she wouldn't make it out of the pregnancy alive because of a heart condition. Needless to say, she did, and lived another 62 years. As she would always tell me, her dad urged her to see a chiropractor and she didn't understand why. She hesitantly went, nearly 70 years ago (when chiropractic was still illegal to practice in many states!). Her life changed, as did the lives of her children and grandchildren.
Chiropractic has therefore been a part of my life since birth. Unfortunately, during my high school years I used it as pain management and not as wellness care. I would see my chiropractor during the migraines I suffered with… not before to prevent the migraines! I also suffered with horrible seasonal allergies throughout my teenage years. I even went to my medical doctor's office every week for allergy shots. When I went away to undergrad at Grand Valley, I lost touch with the chiropractic lifestyle, and continued to suffer with migraine headaches and seasonal allergies.
I then moved to Davenport, Iowa to attend Palmer College of Chiropractic, the Fountainhead of Chiropractic. I finally understood chiropractic as a part of a wellness lifestyle. I got adjusted weekly, and my allergies disappeared! So did my migraine headaches! I didn't get sick very often! I had more energy! I felt great!
I felt so great, I started to train for the Portland Marathon in the summer of 2001. As I started running miles and miles, I started to develop knee pain. Not any type of knee pain, but excruciating knee pain. The pain was so bad that I could no longer walk up or down stairs at Palmer. I was only 23 years old. I had the best chiropractors in the world adjusting my knee. I was in physical therapy for my knee to rehabilitate my knee. But to no avail. I gave up on the idea of running the marathon; I struggled to run 10 miles with the pain, and I couldn't even imagine running the 26.2 miles. My intern at Palmer and my rehabilitation doc told me that I may need surgery.
It was then that one of my friends urged me to check out NUCCA. I couldn't understand how an atlas adjustment could help my knee. But, reluctantly, with two friends at my side, we drove the 10 hours to Tulsa, Oklahoma on September 13, 2001 to get adjusted by Dr. Ray.
And let me tell you… I was skeptical. But as I sat in the recovery room that day, I could tell things were changing. I noticed my muscles tightening on right side of my middle back (and he only touched my neck!) And I was extremely tired. I slept almost all weekend! We all laugh now, saying how boring Tulsa Oklahoma was! Needless to say, we didn't realize that our bodies were healing while we slept.
Once I got back to Iowa, I started to run. The knee pain was gone! I could walk up and down stairs without any problems for the first time in months! Then, one day, the pain was back. I had lost my adjustment. But as soon as my spine was re-corrected, the knee pain went away. The knee was my indicator for a while, but then things started to change. As the months went on, I realized that as long as I was in alignment, my vision was crisp and clear. But as soon as my adjustment would stress, my right eye would get blurry. I started to sleep through the nights, but as soon as I lost my adjustment I'd wake up in the middle of the night. These are some of my indicators that I use to this day to know when I'm in or out of adjustment.
As fate would have it, I became an associate doctor at Marshall Spinal Care in Tulsa following graduation. I saw many more students make the drive from Iowa to Oklahoma, in search of answers to upper cervical care. And, to this day, we all have become part of a very small group of doctors that practice NUCCA. Why wouldn't we? We see miracles every day in our offices!
Thanks for being a part of our office, and helping us in our mission of helping and serving humanity. We're changing lives… a spine at a time.

Your Chelsea Upper Cervical Chiropractor
At Precision Spinal Care, our mission is to revolutionize health care as the world knows it - a spine at a time - and we can't wait to help you get back on track. Book your appointment with Dr. Lisa Olszewski  and the chiropractic team in Chelsea today!